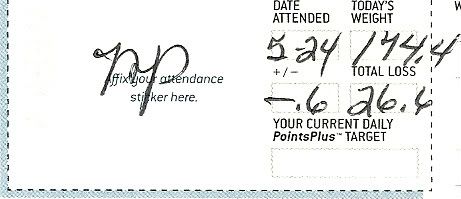 I was pleasantly surprised to have a loss this week. I had the "womans" thing this week plus my eating was not great. I didn't go over my points at all, staying within my weeklies, BUT my choices were not great. We went to Trader Joe's on a Sunday and they were out of a lot of things and because of Billy's schedule we couldn't go again so I didn't have all the fresh fruit and vegetables on hand like I normally do so I ate a lot of carbs and not so healthy foods. But I still lost AND
I now am officially out of the Obese BMI range! WOOHOOO! I am so thrilled by that you have no idea!
My next goal is to lose 30lbs, which I would like to reach by July 4th. That gives me 6 weeks to lose 3.4lb which is really generous. But I like to have realistic goals.
I am also seriously considering training for a 5k but I have to consult a doctor first about my back.
I hope everyone else is having a great week and for my friends who are also on a weighloss journey, I hope you get good numbers this week too!