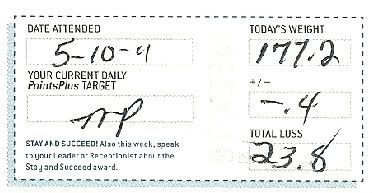 So I know I say it every week but I really truly was expecting a gain this week. I was so surprised to have a loss.
I am so close to my current mini goal of getting under 30 BMI. I have 3.2lb to lose to get under that. It will also put me into the 70's (kilograms) which is somewhere I haven't been in a while. I really wish I had all my old WW weigh-in books from Australia so I knew what I weighed and when.
I got a charm for my keyring at the meeting this week for attending 16 meetings. I was so happy and proud to get this. I have been so focussed and never once thought about giving up.
Another great thing happened at the meeting. My leader pulled me aside before the meeting began and asked me what I thought about working for Weight Watchers once I got to lifetime membership. She said that I would be perfect for the role as I have done so well and I am always offering advice and participating in the meetings. She also said my personality is perfect. I was so humbled and flattered.
I had actually been thinking about this recently but to hear my leader say those things has strengthened that goal for me.