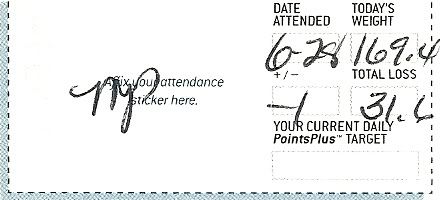 That's right! I am out of the 170's finally! I meant to post last night about how I was hoping to lose enough to break the 170's but I didn't get a chance to. My scales at home were not showing that big of a loss, but they have never been known to be super accurate anyway.
So I am now in the 160's and I am so happy! I am over halfway to goal now. I do know that things are going to get harder the closer I get though. I know I really have to get more exercise in. I just wish the roads around here were more walk friendly. But I will do what I can. If it means lots of time on the Wii then so be it.
My leader set a new goal for me for 39lbs now that I am over my last goal of 30lbs. I can't believe I have been doing this for almost 6 months and have not quit or had a really big setback. It just goes to show that sometimes you really have to be ready to lose the weight plus have the right circumstances.