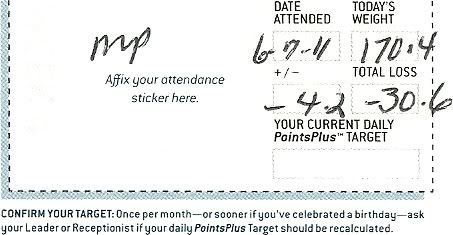 WOW! What a loss! It's my biggest loss in a week. I have been really sick the past couple of weeks so I have no been exercising at all, so I was not expecting this! Wooohoo!
I have now hit my current goal of 30lb lost. I got another 5lb star at the meeting today and almost got Biggest Loser but one of the guys lost over 5 lbs.
I was laying down on the recliner last night and was thinking my legs look thinner now. That made me happy!
Hopefully I will start feeling better soon. I am so sick of being sick!
Loss this week: 4.2lb = 1.9kg
Total loss = 30.6lb = 13.9kg