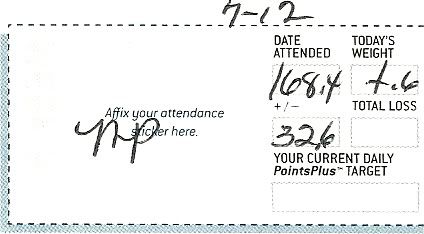 It's been a few days since weigh-in and I didn't even realise I hadn't blogged about it yet! So I had a small gain. It seems I am kind of going up and down here recently. I am not 100% sure why. I had 1 bad day this week, but I didn't go over my weekly points. But I did have that TOM too so I am thinking it was a combination of the 2.
As you can see the receptionist at my meeting messed up my card this week! She put everything in the wrong boxes. Oh well! haha
I am going to try hard this week to use as little weekly points as possible so hopefully I can have a good loss this week.