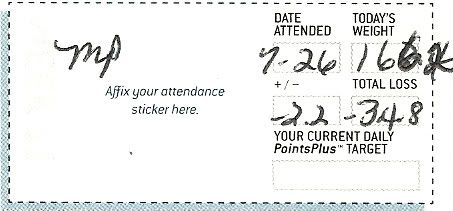 Wooooohoooooooo! What an awesome loss! Just goes to show that lowering my points/calories for a few days really helped! I am thinking once I get a regular workout routine going I am going to really amp up the losses too.
I was So close to hitting 35lb gone! Missed out by 0.2lb! Arrgghh so close!
The meeting today was about avoiding food while socialising. Which is kind of hard when you think about it. Normally when we go out with friends or family, its to eat! haha What kind of activities do you do with friends or family that doesn't include food.