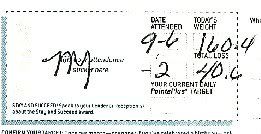 40.6 pounds! oooohhh yeah baby! That's 18.5kg! Plus I lost 10lb before I joined Weight Watchers so that's 50lb and 22.5kg!
You have no idea how happy I am right now. I am a third of my way from my goal weight and I am feeling fantastic. I fit into clothes I have NEVER been able to wear since buying them. I can shop in the normal section of the store now.
It's great!
There are 15 weeks until Christmas so I wonder if I can lose at least 10lb by then. To be 150lb at Christmas time would be SWEEEEEEEEEEEEET!
Hope everyone else is having a great week!