What a naughty girl I have been! I didn't even post about last weeks weigh in! Tsk tsk! Well here it is in all it's naughtiness:
Funny thing is I was expecting more than that. I was kind of naughty. But obviously not too naughty.
This week I was REALLY expecting a big gain. It was TOM plus I had a couple of non tracking blow out days. Especially Thursday night at Bunco! The food was sooooo naughty but sooooo good and there was a delicious birthday cake too for one of our friends. Of course I had some!
But as you can see below I was able to correct it!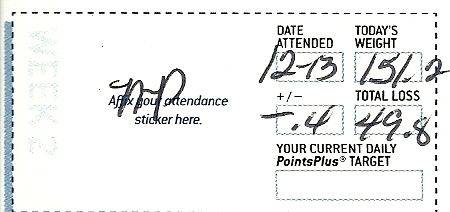 I also was given a really good reminder of perspective today. We were talking about our favourite fast food pre- Weight Watchers and I was saying how I LOVE Cookout burgers and shakes and I was saying how I hadn't been there in like a year. And one of the ladies looked at me and said "Yes but look at the jeans you are wearing!" I was wearing my size 11 Juniors skinny jeans. I had to hand it to her. She was so right!
Now this week I am going to force myself to the gym at least 3 times, if not more.