Like the new title?? hehehe
So last night I had planned on getting up early and heading to another Y I can use in another town and doing Body Pump for the first time in like 10 years! But I didn't get to sleep till late, even after taking sleep aids. So I slept in. Then I saw a friend in my online fitness group was going to the same class, I got my butt into gear and high tailed it there! And made it just in time!!
Before I left though I had to have some coffee and protein!
1 x Luna Protein Chocolate peanut butter bar - 190 calories
coffee with SF creamer - 60 calories
Total - 250 calories
Then I burnt roughly 350 calories doing an hour of Body Pump with my friend!!
My watch says 391 calories but I always under estimate with it.
I had a bunch of shopping to do while I was out so I didn't eat anything else until I got home about 3:30 and I didn't want too much as dinner wasn't far off, so I had a Smart Ones cheeseburger & a smoked cheese stick. No photo.
1 x Smart Ones cheesebuger - 190 calories
1 x WW smoked cheese stick - 50 calories
Total - 240 calories
For dinner I made chicken salsa in the slow cooker. Basically it's just frozen chicken breast tenderloins, salsa, corn and black beans. On low all day. I add a packet of taco seasoning about halfway though. Then shred the chicken up with forks near the end.
I rolled it up in Aldi flatbread, added shredded cheese, put under the boiler for a bit, then added sour cream and guacamole. YUM!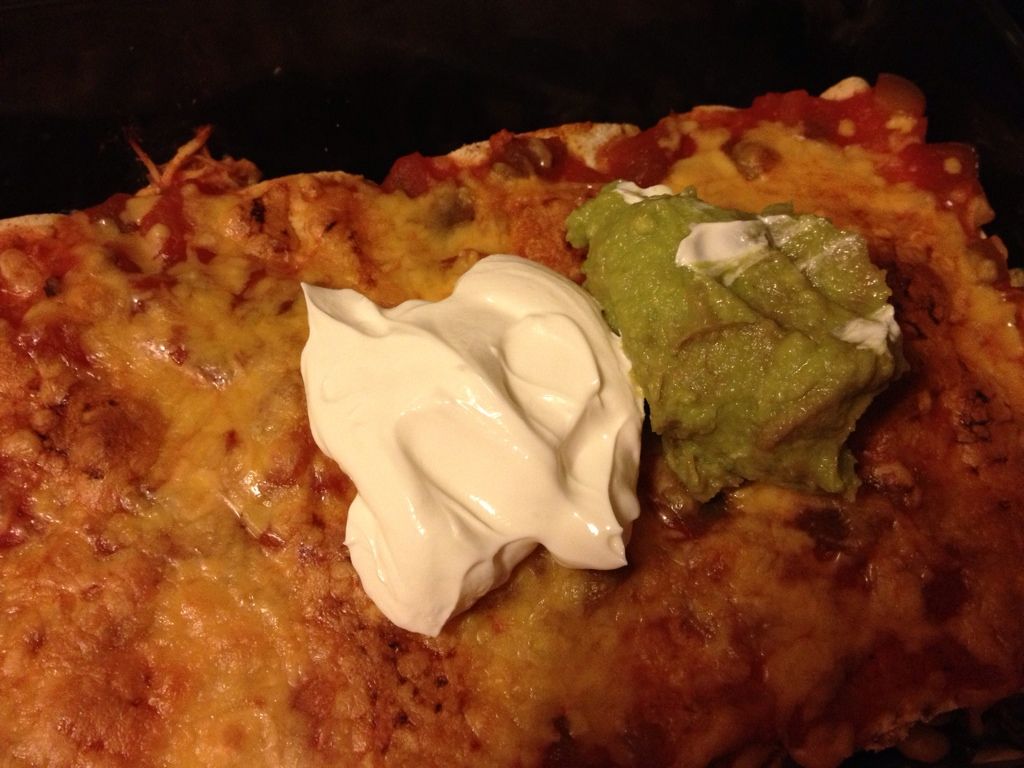 So yummy!!
Total calories - 753 calories
Total Calories available - 1550
Total calories used - 1243
Nutrition:
Exercise:
1 hour of body pump - 350 calories
Thoughts:
I am so freaking excited about Body Pump! I really enjoyed it! I know I am going to be sore as heck tomorrow but man I know it's worth it. Bring it on! I am going to try to go 3 times a week with some cardio in between. Maybe some Zumba and other stuff.
I may become a Gym junkie! lol
Quick call the police, there is an impostor! Where is the real Nikki?? Seriously!